[Web-Event] Central Bank Digital Currencies
The New World of Money and Payment Systems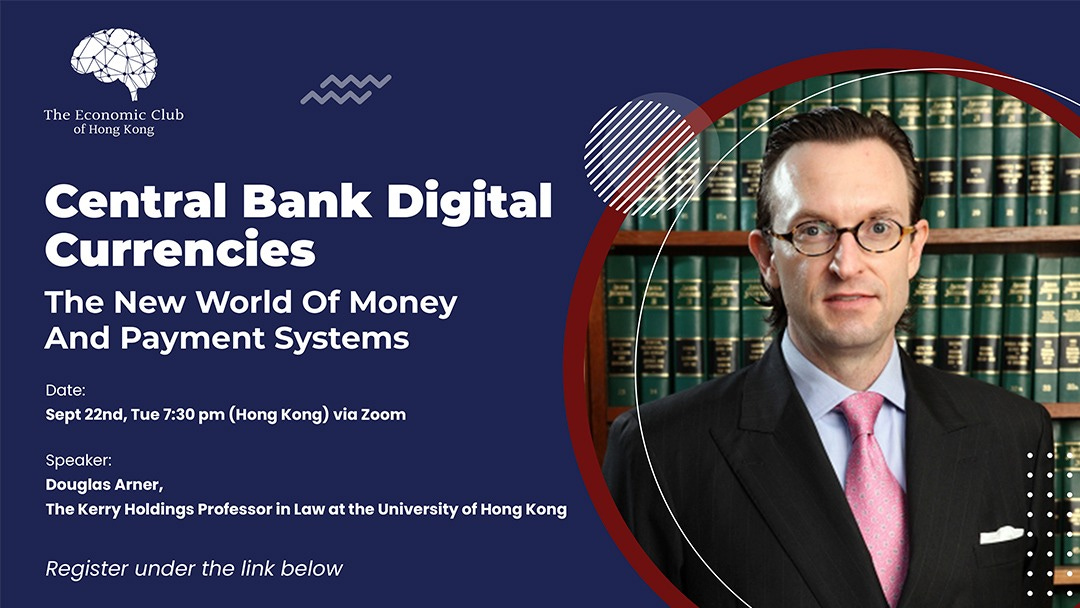 Digital currencies are taking centre stage. Since Facebook's Libra coin was announced in 2018 and missed to obtain approval from regulators in 2019, the focus has moved to central bank digital currencies (CBDC). Even more so since China's push to digitize the Yuan. While there are still technological barriers to overcome, the technology could bring multiple benefit and even upend the global economic order.
Join upcoming web-event by The Economic Club of Hong Kong "Central Bank Digital Currencies – The New World Of Money And Payment Systems"
Date: Tue, Sept 22nd, 19:30-21:00 via Zoom
Hosted by: Joerg & Regan.
Register in advance for this meeting:
https://us02web.zoom.us/meeting/register/tZwocOCspjwiE9O8ceYzru3Z-2BhM6w6thBR
Speaker: Professor Douglas Arner
Douglas Arner is the Kerry Holdings Professor in Law at the University of Hong Kong, a Senior Fellow of Melbourne Law School, University of Melbourne, and a Non-Executive Director of Aptorum Group. He led the development of the world's largest fintech online course "Introduction to Fintech" on edX with over 75,000 learners and specializes in economic and financial law, regulation and development. He served as a consultant with, among others, the World Bank, Asian Development Bank, Alliance for Financial Inclusion, APEC, European Bank for Reconstruction and Development, Islamic Financial Services Board and Development Bank of Southern Africa.
For a full biography please visit: https://www.law.hku.hk/academic_staff/professor-douglas-w-arner/
Questions Prof Arner will cover in his introduction:
- How will digital currencies and especially the digital Yuan impact global trade, financial access, and payments – especially in a post-COVID-19 world?
- Will CBDCs upend the global economic order
- What does the rise of CBDCs mean for Hong Kong as a financial centre
Suggested material to read prior attending the event:
After Libra, Digital Yuan and COVID-19: Central Bank Digital Currencies and the New World of Money and Payment Systems
RMB to CBDC: Implications of China's digital currency, EIU Podcast (30 mins)
https://eiuperspectives.economist.com/financial-services/rmb-cbdc-implications-chinas-digital-currency
What will China's central bank digital currency mean for Alipay and WeChat Pay?, SCMP, 5 Sep 2020 (5 mins read)
https://www.scmp.com/business/banking-finance/article/3100285/what-will-chinas-central-bank-digital-currency-mean-alipay
How Will a Central Bank Digital Currency Advance China's Interests? China Power (4 mins read)
---
Meeting Format (virtual meeting via Zoom):
The host will welcome you in the group video chat (main room) and start with introduction about the community and the topic. Professor Arner will give his presentation on Central Bank Digital Currencies. Thereafter and depending on how many people will attend, we split into virtual break-out rooms of 4-5 people for more detailed discussions. Within each subgroup we will introduce ourselves (name, profession, hobby and fun-fact) and begin a free-flowing discussion on the theme. That's why it is important to prepare and read suggested materials prior the meeting. Questions, new paths for discussion, personal experience, and opinions are highly encouraged. We conclude the event with everyone returning the main room sharing their takeaways on the subject.
The Economic Club of Hong Kong is a community of intellectually curious people. Events are organized by a group of passionate volunteers. Visit our website https://www.econclubhk.org/ to learn more.